Sia Furler first came to mainstream prominence with "Breath Me," the haunting song playing in the closing moments of Six Feet Under, and has since lent her voice to dance anthems like "Wild Ones," "She Wolf" and "Titanium," and written big hits for Rihanna ("Diamonds"), Katy Perry ("Double Rainbow") and Celine Dion ("Loved Me Back to Life").
The Australian singer-songwriter has been openly bisexual throughout her career—and even dated Le Tigre's JD Samson for some  time—so fans queer were understandably shocked to learn Sia had collaborated with Eminem on "Beautiful Pain," a song on his new album, The Marshal Mathers LP 2.
Slim Shady has danced around the homophobia in his lyrics over the years, making vague overtures to the LGBT community when it suited him, but "Rap God," the first single off MM2, includes lovely lines like "Break a motherfucker's table over the back of a couple of
faggots and crack it in half," and "You fags think it's all a game till I walk a flock of flames off a plank, and tell me what in the fuck are you thinking."
Keo Nozari, a New York-based DJ and writer, decided to find out for himself what Sia was thinking and engaged her in a rather illuminating—though ultimately frustrating—Twitter conversation.
In a piece for the Huffington Post, Nozari writes:
Time and time again, Eminem has been informed about the negative impact that his hate speech has on the lives of the gay community, and although he's given some non-apologies to the likes of Anderson Cooper and issued platitudes about how he doesn't care what you are as long as you're "nice to me," he continues to create derogatory lyrics against us.

What upset me further was that Sia, an openly queer artist whom I deeply respect and have followed for 14 years, decided to write and sing a duet on the same album that features "Rap God."… How could she do this knowing Eminem's extensive anti-gay history and considering that she didn't need to work with him at this point, and especially during a time of horrible anti-gay bullying and LGBT suicides?
We usually think of Twitter as a place for celebs to spew ill-conceived platitudes, but Sia She seems convinced Slim Shady is just a just an invective-spewing character adopted by Marshal Mathers—"I know personally that he is not homophobic, but a performance artist." but also appears genuinely concerned and perhaps even remorseful about getting involved with him. "I feel powerless… what's done is done."
Underscoring that point, Nozari reveals anti-gay slurs started appearing on the Twitter thread almost immediately:
After my conversation with Sia, they immediately piled on the very terms that I was arguing against, directing them at me and even at Sia: "Fag," "Stop Being a Faggot," "Shut Up Pussy." One even advocated violence, taking his cue from the same lyric quoted above, telling both Sia and me, "he [Eminem] shud break two tables not just one."
Below is the full thread of Nozari's conversation with Sia Furler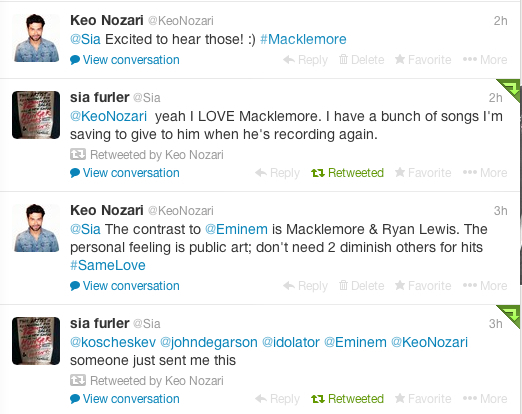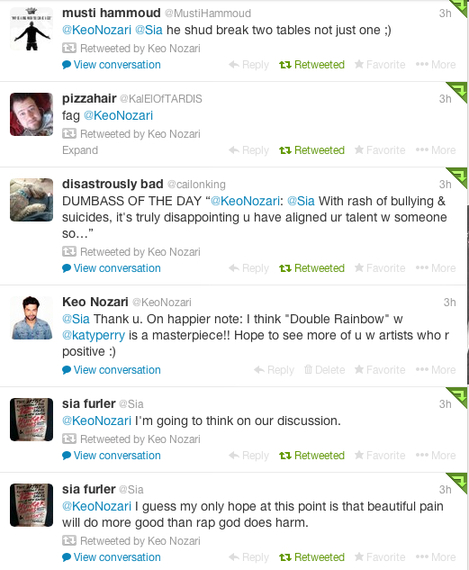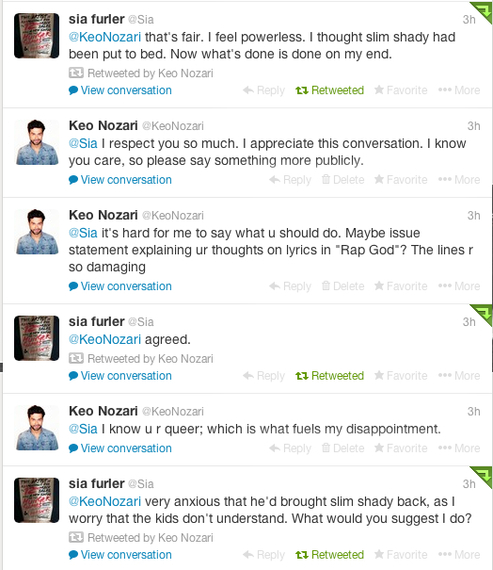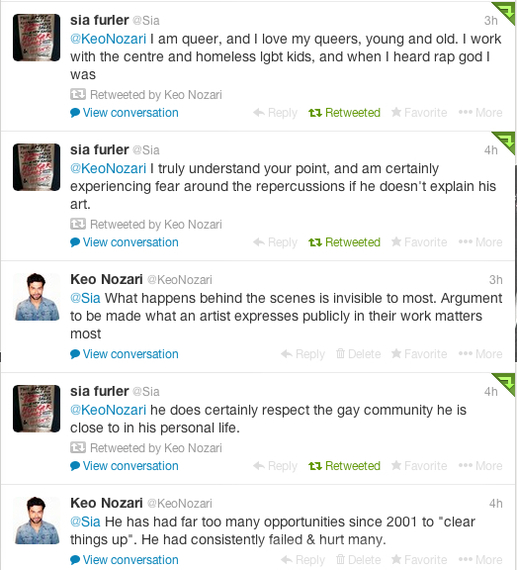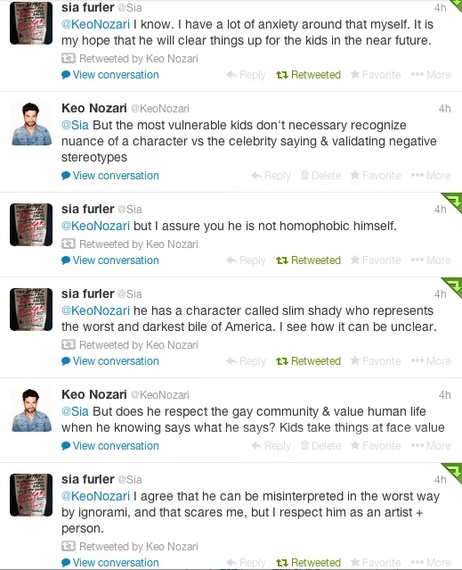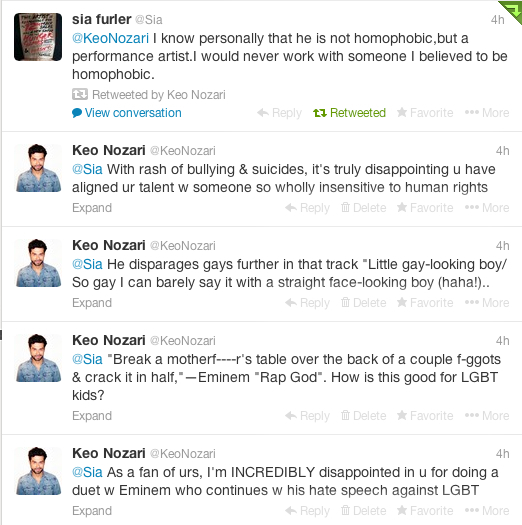 Follow Keo Nozari on Twitter: www.twitter.com/keonozari