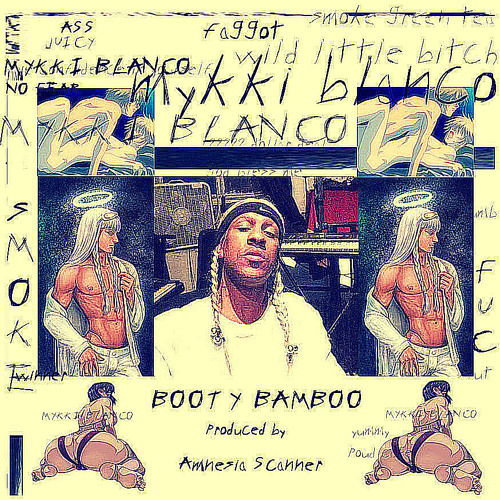 More than a pair of heels and a wig (though she looks good in both), Mykki Blanco's hard hitting raps are aggressive, confrontational, and intense.  Known for her gender-bending drag looks, Blanco's been touring the world all Autumn but has managed to sneak in some time at the studio, where she recorded her new track "Booty Bamboo," produced by Amnesia Scanner.
The song's description on SoundCloud, in typical Mykki fashion, is a punkish screed about not giving a fuck:
Will hip hop ever accept me? Who gives a fuck. Will the gay community turn their back on me if I stop dressing in drag? Who gives a fuck. Will I get signed? Who gives a fuck. I did a world tour off the strength of soundcloud singles, a lo-fi mixtape and my first EP. I was out there, I saw the power of music and saw the power of love and now I just want to develop my music and have fun. People who fuck with Mykki Blanco fuck with Mykki Blanco no image or politics needed.

Light a blunt with your friends and listen to my new track Booty Bamboo. I feel free, I hope you do to.
Check out the new track, which can be downloaded for free, below: