Those hacked Sony emails keep bearing new fruit: The latest tidbit to come out from the rafts of emails made public is the list of demands Marvel made to Sony when licensing Spider-Man for the big screen.
It's standard practice for DC or Marvel to give a studio a list of dos and don'ts. (We don't want to end up with another Halle Berry Catwoman, right?)
But nestled in with stipulations that Spidey doesn't kill, sell drugs or have underage sex, is a demand that neither Peter Parker nor Spider-Man be depicted as gay.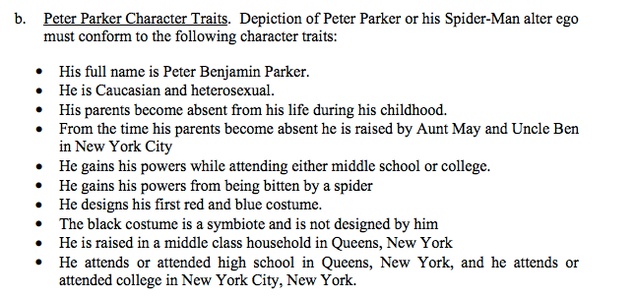 At least Marvel says Spidey can be gay if "Marvel has portrayed that alter ego as a homosexual."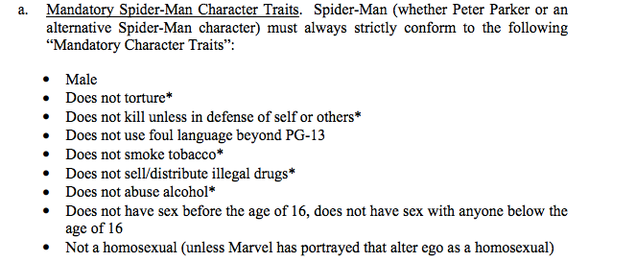 It's interesting to note that while Marvel is okay with Nick Fury and Johnny Storm being portrayed as African-Americans, Peter Parker must be caucasian. Which is odd considering his super-hero costume covers every inch of his body.
We should note that, in Marvel's Ultimate line of comics, another young man has taken up the mantle of Spider-Man— Miles Morales, who is half-black/half-Latino.
A vocal segment of fans have been clamoring for Donald Glover to take over the Spider-Man movies. (Heck, Glover even has his own alter ego, Childish Gambino.) But it looks like he couldn't play Peter Parker even if Sony wanted him to, according to this document.
As for being homosexual, Andrew Garfield suggested some time ago that Spidey being gay or bi would be good for the franchise.
I was like, 'What if MJ is a dude?' Why can't we discover that Peter is exploring his sexuality? It's hardly even groundbreaking…So why can't he be into boys?
Garfield even suggested Michael B. Jordan—soon to be seen as the Human Torch in the new Fantastic Four movie—as a bedmate for the wall-crawler. "He's so charismatic and talented," said Garfield. "It'd be even better—we'd have interracial bisexuality!"
That might sound silly, but considering Spider-Man and the Torch have a longstanding bromance in the comics, having them explore their sexuality on screen might actually bring the franchise into the 21st century.
We're not holding our breath, though.
h/t: Gawker